Compress Your Brake Disc Easier
"This tool set is

versatile

and allows me to

quickly rotate my brake discs.

It also includes everything you'll need to make your brake caliper pistol run more smoothly." -

Ethan G.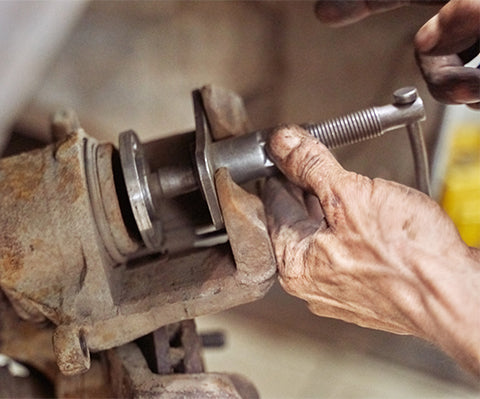 How Efficient Are These?
✅Durable: These are made of carbon steel and have a rust-proof blasted finish to withstand heavy use. It's ideal for everyone from new DIYers to seasoned mechanics.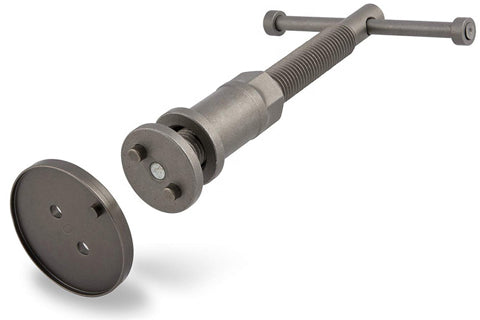 ✅ Easy to Use: Great for cars, trucks, or 4-wheel drive disc brake vehicles, especially for brake pad replacement and piston rotation back into the caliper. Right and left-handed thrust bolt assemblies are included.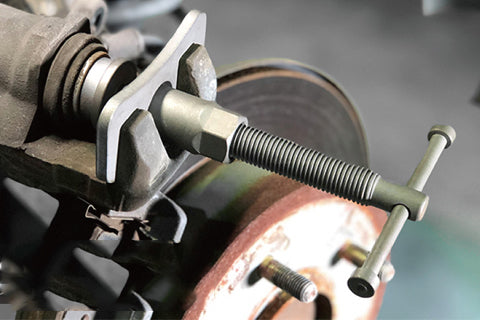 ✅ Convenient: It comes with 18 adapters that fit a wide range of automobiles. It is included in a heavy-duty, blow-molded box with precision-sized compartments for each piece, making it easy to store and transport.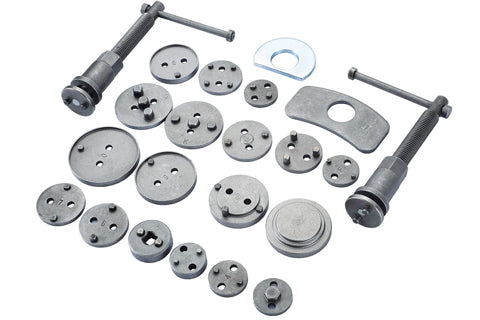 📝

Frequently Asked Questions:
Q: Does it have retainer plates?
A: Yes, there are 2 retainer plates included.
Q: Does it also have a thrust bolt assembly tool?
A: Yes, right and left-handed thrust bolt assemblies are included.
Q: What are the compatible car brands for this tool set?
A:
Adapter # 0: Compatible for General Motors, Cadillac Seville, Eldorado

Adapter # 1 Retaining plate

Adapter # 2 :Compatible for Citroen XM, Xantia and other

Adapter # 3 :Compatible for Alfa Romeo, Audi, Austin, BMW 318 iS, 320 i, 325 TD, 518 i, 525 i, 740 i, 850 ci, M5, Ford Fiesta, Honda Concerto, Jaguar XJ6, XJ40, , 200 , 300 , 420 , 560 , Mitsubishi Colt, Stanza, Sunny, Toyota Camry, VW Passat, Golf GTI, Volvo

Adapter # 4 :Compatible for Alfa Romeo 164 2.0 , Fiat, Ford Telstar, Laser, General Motors Saturn, Grand Prix, Lumina, Honda Prelude, CRX, Mazda, Saab 9000

Adapter # 5:Compatible for with 3/8 "square drive

Adapter # 6:Compatible for VW Golf 4

Adapter # 7:Compatible for Audi 80 and 90, V8 and 100 , Coupe, Ford Sierra ABS, Granada and Scorpio from 1985 , Honda Prelude, Blue Bird Primera 2.0 i, LS, GS, GSX, Rover 8000 , Saab 9000 , Z Peugeot 405 1 .9Gi, Gri, Sri, GTXI, MI16, 605 2.0 Sri, Toyota Celica, Corolla GT, MR2, VW Golf and Passat Cl, Gl, GT, GT 16V, 16V Corrado, Scirocco GTX 16V, Synchro , GTI 16V

Adapter # 8:Compatible for GENERAL MOTORS

Adapter # 9:Compatible for General Motors, Cadillac Seville, Eldorado

Adapter # 10 :Compatible for VW

Adapter # A :Compatible for Renault R21, Laguna

Adapter # E :Compatible for Maxima

Adapter # F :Compatible for Opel Corsa, Astra, Zafira and Vectra

Adapter # K:Compatible for Citroen C3, C5

Adapter # K1 :Compatible for Citroen

Adapter # K2 :Compatible for Citroen

Adapter # M :Compatible for Ford

Adapter # N :Compatible for Renault, Saab and Honda

Adapter # O Retaining plate
Note:
You can check and inspect your brakes once a month or
Get a brake checkup every 10,000 miles or have your technician inspect the brakes every time you get your oil changed. At every major service, another preventive measure is to remove the caliper and brake pad and clean everything (approximately every 30,000 miles).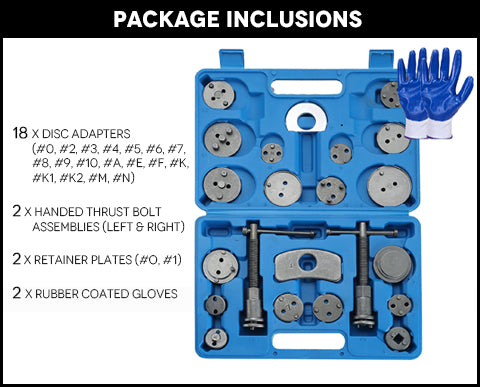 GET YOURS NOW!