The Chinese Rings Puzzle is believed to be one of the oldest puzzles known, dating back to China over 2000 years ago.
We believe that what makes it so popular is that it cleverly combines both logic and creative thinking.
The most representative of Chinese classical intelligence toys. Practice the brain, logical thinking ability and finger muscles. It also can cultivate the spirit of work study focused and your patience.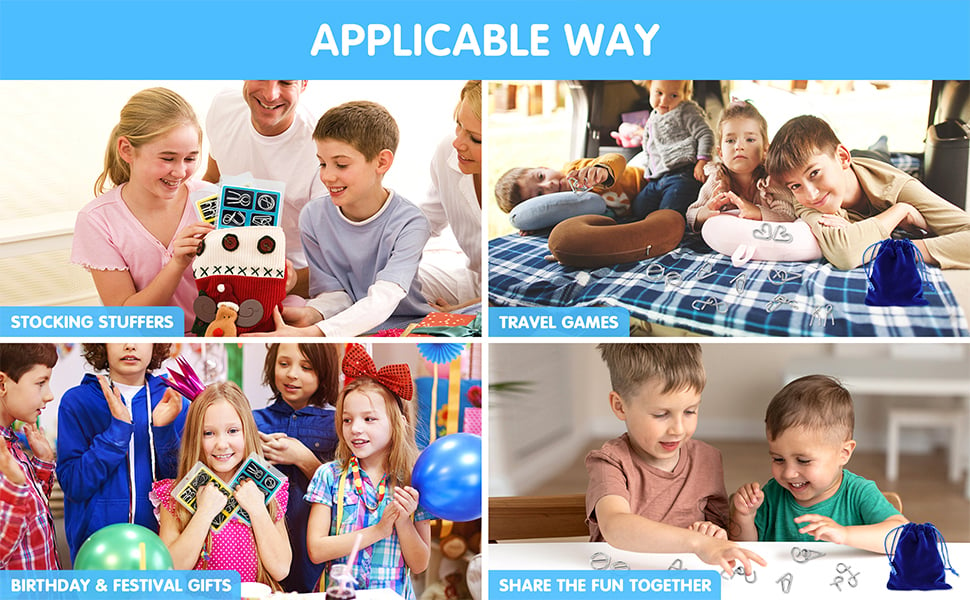 Metal brain teaser puzzle condenses with traditional Chinese culture and they are quite interesting.
Definitely a fun brain teaser that would be perfect for a little gift or as an add on gift. Challenging yet fun to play with.
Intelligence IQ game toy, perfect for kids.

Good for creative thinking and improve both your IQ & EQ, anyone can pick it up and play. It looks really nice

if you're just looking for a simple brain teaser to entertain briefly, or a conversation piece, then you'll probably enjoy this.

Suitable for everyone,especially those who like to be challenged. For such a simple concept and basic materials, these toys give teens, adults and seniors hours of endless enjoyment.
Assembly and disentanglement puzzles have been around for centuries and they have provided generations of kids and even adults with fun while keeping their minds sharp and creative.
🎁[High-Quality Metal Puzzles] For the kids, our metal wire puzzles pay more attention to the quality, so our IQ toy use an integral forming process to ensure the brain teasers smooth and not hurting hands. We upgrade our materials, using three layers of nickel plating to avoid rusting or out of shape.
🎁[Benefits of Puzzle Games] Playing this Metal Wire Puzzle can improve the ability of observation, understanding, analysis and reasoning. It's a traditional Chinese brain teaser, which can train up divergent thinking and attractive children's attention.
🎁[Good Social Assistant] We provide a carry on bag and instruction, which makes it a good travel games. It's a cool gadget for you to share with your friends and family. You will boost confidence after you solve challenging puzzles successfully.
🎁[Unique Gift] It's not only a fun game for the kids, but also a good brain training game for adults and the old. It's a unique and interesting gift for stocking stuffers, Christmas, New Year, Birthday, ect. Padike will try our best to provide 100% satisfaction after-sales service for our customers. If you have any question, please feel free to contact us at any time.