KEEP THE OLD KNIFE, REST YOUR ARM & SHOULDER
Does your arms and shoulder feel sore after using a dull knife? Stop putting more pressure and force while using your dull knife.
Don't waste time & money buying new knife set

Introducing Elite Knife Sharpener, the ultimate tool for achieving razor-sharp precision with ease. Designed for both professional chefs and home cooking enthusiasts, this innovative sharpener redefines the way you sharpen your knifes.
Trusted by Many Australian Customers
Our Elite Knife Sharpener has been carefully designed & crafted to sharpen a wide range of knifes, including boning, fillet, hunting, and steak knifes. This sharpening system offers a simple setup and user-friendly design to ensure hassle-free sharpening for everyone.
Join many satisfied Australian customers who have discovered the secret to  professionally sharpen their knifes within minutes from the comfort of their home.
Benefits of Elite Knife Sharpener : 
✅ Save $1,000's From Buying New Knifes
✅ Eliminate Soreness & Fatigue On Arm & Shoulder
✅ Sharpen All Kind Of Knifes Within Minutes
✅ Very Easy To Set Up

✅ Designed For Maximum Safe Handling
✅ Professional Grade Sharpening At Home
✅ Happy Australian Customers
✅ Australian Owned, Operated and Shipped From Australia
✅ Fast & Free Delivery Australia Wide
✅ Risk Free - 14 Day Money Back Guarantee
Blade Restoration With Ultimate Precision
With top-quality stones, it effortlessly removes dullness, restoring your blades to their best. Perfect for kitchen knifes, hunting blades, and precision tools, it ensures precise and skillful results.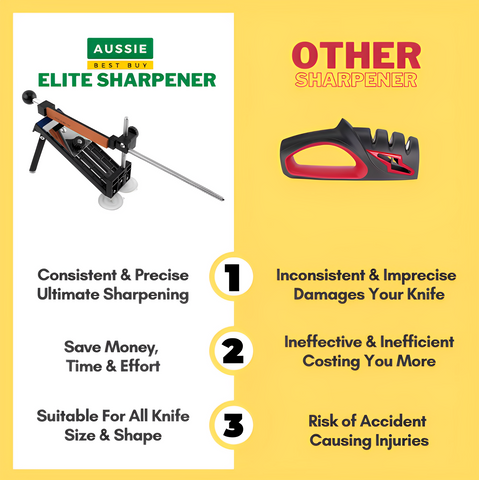 The Detrimental Impact of Using Dull Knifes
Dull knifes are more dangerous than sharp knifes. Contrary to popular belief, dull blades require more force to cut through objects, increasing the likelihood of slips and accidents.

Dull knifes cause fatigue and discomfort. When you exert excessive force while using a dull knife, it can strain your hand and arm muscles, leading to discomfort and potential long-term issues.

Dull knifes can slow down your cooking process. Cutting with a dull blade requires additional time and effort, leading to inefficiency in the kitchen.
Reasons You Will Love Elite Knife Sharpener
Unlock the power of precision, guaranteeing a razor-sharp knife in 30 seconds or less.
Rediscover the joy of chopping, dicing and cutting — an exceptional tool that effortlessly restores razor-sharpness to your blades.
Crafted with enduring quality, ensures a long-lasting performance, eliminating the need for frequent replacements
Easy to set up and use, the perfect gift for your loved ones, promising a hassle-free sharpening experience.
Feel Safe With A 14 Day Money Back Guarantee
Feel safe with a 14 Day Money Back Guarantee - We are 100% confident that you'll love our Elite Knife Sharpener, if the product arrives damaged, broken or out of shape, feel free to contact us within 14 days of arrival and receive a FULL REFUND no questions asked!
Features Include :
✔️ Fixed Angle For Ultimate Precision
✔️ Compact & Portable
✔️ 4 High quality Whetstones : 180#, 400#, 800#, 1500#
✔️ Professional Quality Result
✔️ Durable & Reliable
What's Included  :
1 Elite Knife Sharpener
4 Whetstones
1 MicroFibre Cloth
1 Marker Pen
1 Travel Bag
1 Manual Instruction