This pair of sculpted skeletons with unique features will delight your guests.
CHARACTERISTICS
They come back to life by activating motion or sound detection.

They start with some light-hearted banter and then play "Dueling Banjos" music.
They strum their unique banjos in sync with the music and as they play, their heads turn and their eyes light up. Simply connect the connection cable and standard socket adapter, both included.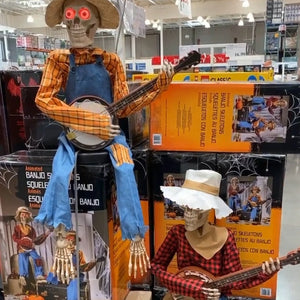 There is a volume control that allows you to adjust the volume. A 4-way switch controls English, French or Spanish language lines, the 4th position is for music only.
SPECIFICATIONS
Material: Plastic
Size: 40*10*4.5cm
Weight without light: approx. 110g
Weight including light: approx. 150g
Batteries: Two AAA batteries (not included)
Color: Red, Yellow
Style: without light, with light
PACKAGE INCLUDES
1 * Funny Animated Dueling Banjo Skeletons