Introducing WitcheryWisp Lights, the zenith of mystical illumination!
Crafted with sorcerous precision, these lights gracefully levitate, transforming spaces into bewitched grand halls. Each glow promises an entrancing evening, inviting all into a magical journey.

MAGICAL FLOATING DESIGN
 WitcheryWisp Lights suspend gracefully, creating a mesmerizing levitation effect. This distinctive trait elevates mundane rooms to majestic chambers, turning each dusk into an enchanting spectacle.
WAND CONTROL 
Every light synchronizes with a wand-inspired controller, infusing operations with a spellbinding touch. Beyond enhancing the mystical ambiance, it introduces an element of effortless interaction and distinctiveness to the setting.
WARM AMBIENT GLOW
 WitcheryWisp Lights float elegantly, casting a captivating levitation aura. Their unique design transforms spaces, making every twilight a magical display.
SAFE AND LONG-LASTING
  These flameless candles are smoke-free, eliminating fire and dripping wax concerns. Powered by a single AAA battery (not included), each 3D wick candle lasts 150 hours, perfect for parties or daily use.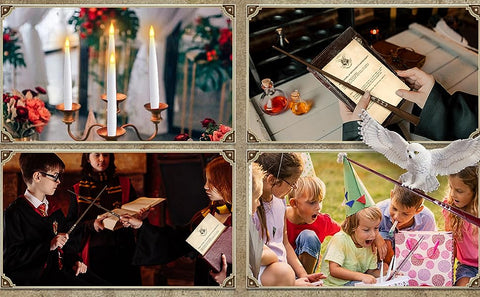 VERSATILE DECOR
 Beyond magic, WitcheryWisp Lights adapt to any decor. For festive events or calm nights, they infuse settings with elegance and wonder.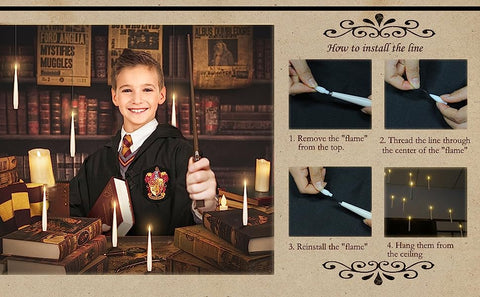 We understand the longing for a space that feels both personal and magical, a sanctuary that transports you away from the mundane. It's disheartening to come home after a long day, hoping for a touch of enchantment, only to be met with the same old lighting. According to a survey by Home Decor Magazine, over 70% of homeowners expressed a desire for unique lighting solutions that not only illuminate but also elevate their living spaces.
With WitcheryWisp Lights, you've discovered the key to unlocking a realm of enchantment in your very own home. These lights do more than just illuminate; they weave a tapestry of magic and wonder in every corner. Step into a world where every evening is a magical journey, and every room is a grand hall waiting to share its tales.
PACKAGE CONTENTS
(12) X Witchery Wisp Lights
(12) X Clear hooks
(12) X thumbtacks
A Warm Wynd Promise
At Warm Wynd, we believe in the quality of our products therefore we offer a
30 Day Money Back Guarantee with no questions asked! When you purchase from us, there is ZERO Risk for you!