Are you looking for a pocket-sized printer that is Bluetooth-compatible? Then look no further than the Phomemo T02 Portable Mini Thermal Printer. This handy little device uses thermal printing technology to print black and white images, making it perfect for printing labels, notes, and other small documents. You can even select the features in the APP to print many interesting text by connecting your phone to your printer via Bluetooth. Not only is this printer fun to use, but it is also a great way to improve your efficiency.
Product Information:Printing Method: Direct Thermal Printing (no ink, no toner)Size: 3.4"x3.5"x1.6"/87x90x40mmWeight: 5.3oz/150gColor Available: Pink/GreenBattery: 1000mAhCharge Way: USBCompatible System: iOS & Android
Printer Packing List:T02 Printer1Power Cord1Paper Holder Baffle*1Printing Paper*1Maual*1
Print on the Go
Connect wirelessly, and enjoy inkless thermal printing technology. Customize your prints, boost productivity, and express your creativity with ease. With its compact design, long-lasting battery, and universal compatibility, the Pocketee Mini Printer is the perfect companion for all your portable printing needs.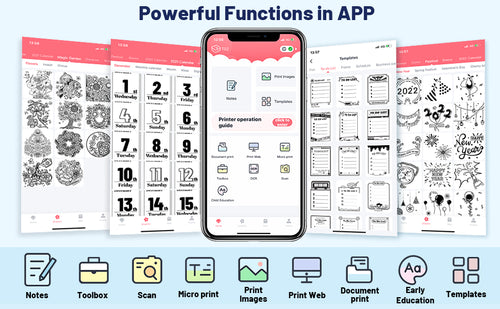 Intuitive Mobile App
I Elevate your printing experience with the user-friendly Phomemo app. Personalize your prints effortlessly by adding text, images, templates, and more. Unleash your creativity with a wide selection of free templates available in the app. Create unique sticker images by combining text, images, forms, emojis, and QR codes. Print photos, text, to-do lists, stickers, and unleash your DIY ideas for study notes, life notes, and manuals. The possibilities are endless with the Phomemo app, making your prints truly one-of-a-kind.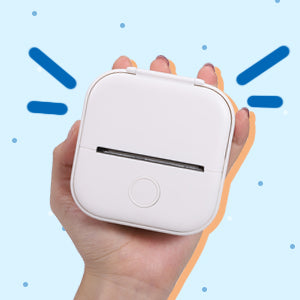 The Portable Mini Thermal Printer combines convenience, versatility, and portability in one compact device. Print labels, notes, and more wirelessly using Bluetooth technology. Embrace inkless printing with thermal technology and enjoy fast, efficient, and personalized prints. Enhance your printing experience with the user-friendly app and let your creativity shine. With its compact size and long-lasting battery, the Phomemo T02 is the perfect companion for on-the-go printing needs.
Print Method: Thermal Printing (No ink, No toner)
Size: 3.4"x3.5"x1.6" (87x90x40mm)
Weight: 5.3oz/150g
Color: Pink/Green/White
Charge Way: USB
Compatible System: iOS & Android

---

Frequently Asked Questions




The Pocketee Mini Printer connects wirelessly to your device via Bluetooth. Simply enable Bluetooth on your device, open the Phomemo app, and follow the on-screen instructions to establish a connection.

Yes, the Pocketee Mini Printer is compatible with both iOS and Android devices, ensuring broad compatibility for a wide range of smartphones and tablets.

The Pocketee Mini Printer utilizes thermal printing technology, which uses heat to create prints. It does not require ink or toner. The printer activates the heat-sensitive paper, resulting in the desired images or text.

You can print 60 times in one roll.

For additional support, troubleshooting, or product-related inquiries, you can refer to the user manual included with the printer or reach out to Pocketee's customer support team for assistance.

Yes, the Pocketee Mini Printer is equipped with a built-in battery. It has a long-lasting battery life, allowing you to print multiple documents without needing to recharge frequently.

We have a full refund policy, if you are not satisfied with the product, you can raise a claim by sending us an email at support@sxpanri.com

Yes, you can purchase additional rolls if you want.

Yes, this printer is inkless and does not hvae any emissions as it uses thermal printing which is completely safe for children