As a gift for your loved ones,this limited stock Peeler for Fruits and Vegetables Set will be the perfect!
Whatever peeling task, this peeler set can handle bumps and curves with ease and without clogging or losing its edge. It comes with 3 peelers - definitely suitable for a wide variety of vegetables! 
Can be widely used for easy peeling, removing vegetable / fruit seeds and creating tiny potato balls.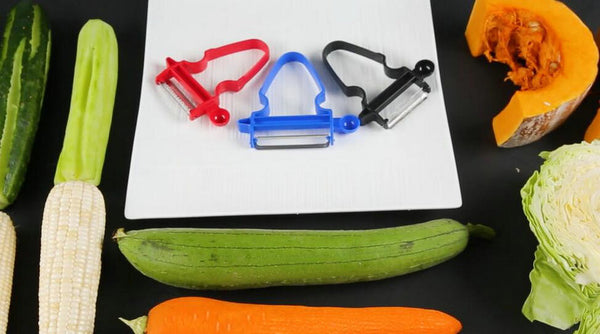 FEATURES
✅ High quality: A set of 3 best peelers made of high-quality ABS handle and stainless steel blade for cutting shredding slicing and scooping a wide variety of fruits and vegetables. Example skin of an apple, potato, carrot, cucumber, ginger, citrus, mango, lemon ...

✅ Safe to use: Its dual ultra sharp surgical stainless steel swivel peeler has a comfortable handle that makes it safer and easier to use and helps avoid finger and hand cutting even during repetitive strokes. Dishwasher safe. kind of your peeling swiss knife peelers for a veggie.

✅ Fast and effortless peeling: This magic set peeler makes food preparations a lot faster and easier. Its blade cuts in two directions. Its symmetrical handle is flexible yet very strong makes it very easy to use. Almost no pressure is required.

✅ Ergonomic design: It has a double-edged blade that you can use both backwards and forwards. Easy to use with its symmetrical handle even if you are left-handed.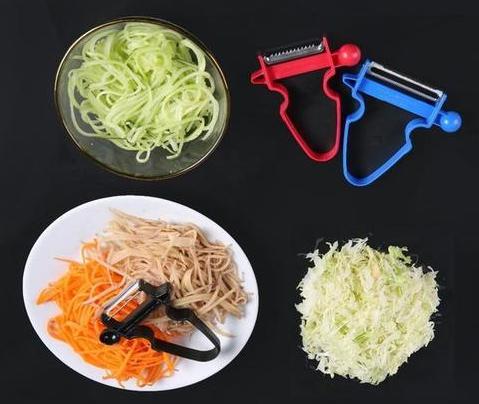 SPECIFICATIONS
PACKAGE
Peeler for Fruits and Vegetables (3 PCs)