🌱🌱🌱
"The Plant Nutrient Solution contains a blend of all of the essential micronutrients & minerals required by many fruits, vegetables & plants. Especially Amino Acids. Amino acids are required by plants throughout all stages of growth. They are the true building blocks of all proteins. They are helpful when plants are under stress. The amino acids act as chelating molecules of essential nutrients during all stages of plant development. And the Plant Nutrient Solution has this all, recommend this to my customers all the time and have only seen good results!" Lily Cruz, Botanist, and owner of Plants & Flowers, New York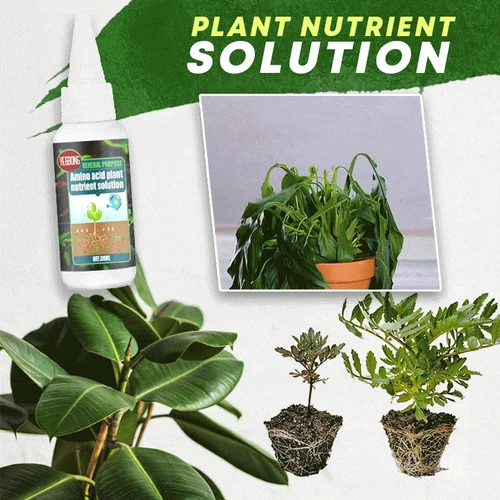 FEATURES
🌿 A beautiful and bountiful garden requires healthy plants. While sunlight and water are essential, so are nutrients. Just as we use vitamin supplements to help keep us healthy when we don't eat right, plants need fertilizers to provide the nutrients they aren't getting from unhealthy soil.
🌿 One of the nutrients that are essential for plants is Amino Acids. Amino acids are organic molecules that are part of proteins, playing a key role in most biological processes in plants. lt is the true building block of all proteins and is required by plants throughout all stages of growth and is helpful when plants are under stress. Amino Acids are essential for plant growth, health, and function.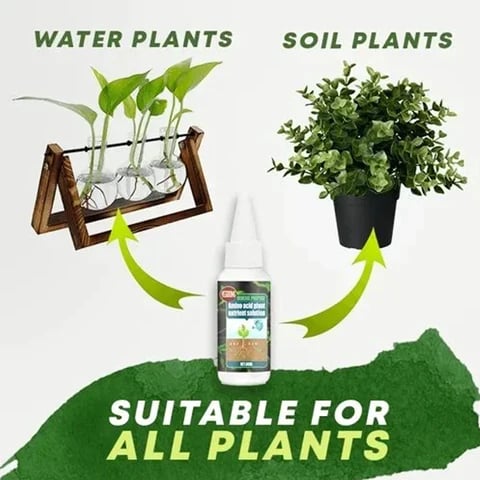 🌿 Plants need amino acids to create and strengthen cells. Plants actually produce amino acids, but this takes a lot of energy from them. By providing AminoAcids fertilizer, your plants will not have to use their energy for producing amino acids, and will now expend their energy toward other deficiencies, allowing tremendous growth and vitality.
🌿 To save you and your plants their energy, we created the Plant NutrientSolution that's boosted with Amino Acids. With multiple roles as plant and soil boosting compounds, the Plant Nutrient solution will give your plants what they crave. A biodynamic, healthy ecosystem with supercharged organic benefits that are guaranteed to boost your growth the natural way.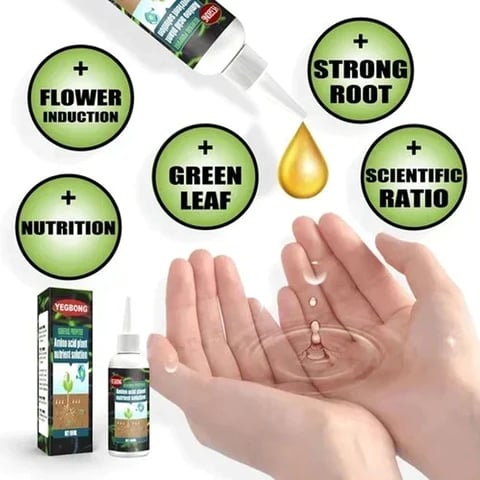 🌿 Contains a blend of all of the essential micronutrients and minerals required by many fruits, vegetables, and plants, which may not be present in your current nutrient program, the Plant Nutrient Solution will surely help maximize your plant's health and growth. Whether your goal is to get bigger vegetables, healthier turf, larger, more vibrant flowers, and more, this will help you achieve the results you're dreaming of.
🌿 This Plant Nutrient Solution got all the nutrients your plants need to grow. Formulated to increase plant vigor, turf greening and growth, flower development sites, and garden yields. This can be applied to your turf, vegetables, and flowers without concern for waste or harmful chemicals. This organic fertilizer for plants is designed to increase your plant's resistance and drought tolerance.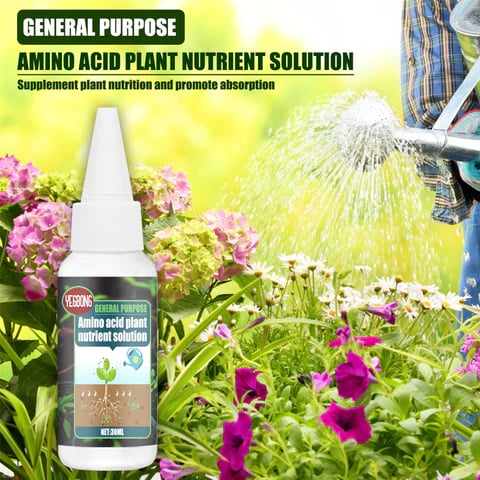 🌿 The Plant Nutrient Solution will also help increase chlorophyll concentration in the plant, leading to a higher degree of photosynthesis. It helps turn leads to even more available energy. and drought tolerance.
SPECIFICATIONS
PACKAGE INCLUDED
1 × Plant Nutrient Solution